---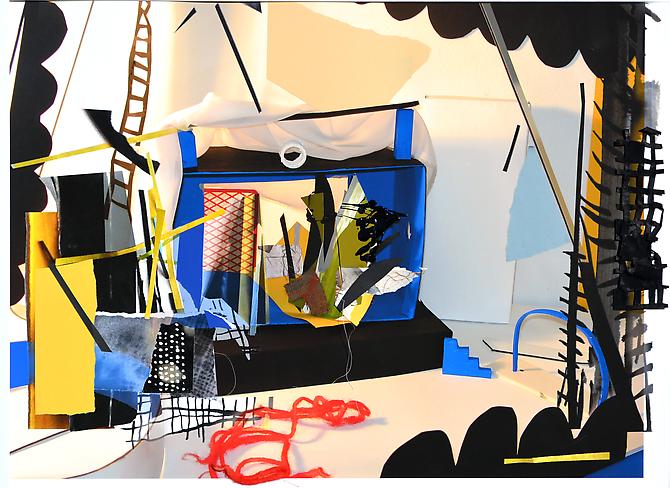 ---
Sandy Litchfield


"These constructed landscapes have evolved to represent a damaged place with fertile remains. It's a place for elevated memories, thin and fallen hopes, the geography of desire and the apparition of home.

There are times when the world feels so terribly broken and I fear it will never be adequately fixed. But what blooms in the rubble is nevertheless alive and marvelous, as if ruin was its own bequest. I have begun to wonder whether everything starts from this place of failure, whether failure is actually the beginning not the end.

My process involves gathering and piecing together fragments of collected imagery- trees, towers, leaves, flowers, streetlights, paper scraps, broken buildings, debris and recycled artwork. I assemble these remnants into various configurations until they begin to make sense as a compositional whole. I use a range of media including collage, paint, photography and digital prints. The method of layering imagery, cutting, drawing, tearing, painting, scanning, printing and gluing obscures the distinctions between the mechanical image and the handmade.

I make landscapes as a way to reconcile loss. Here we may learn something about what's missing: the cities with their luminous promise to fill aspirations, the forests with their unruly patterns of enchantment, the pastoral country as a soothing respite for restoration." - Sandy Litchfield

Sandy Litchfield has exhibited in numerous museum shows including the DeCordova Museum and Sculpture Park, The New Britain Museum, and The Portland Art Museum. She studied art at The Skowhegan School of Painting and Sculpture, UMass Amherst, and CU Boulder. In 2006, she was a recipient of The Massachusetts Cultural Council Artist Fellowship. Her work belongs in many public and private collections. It has been reviewed by The Brooklyn Rail, The Phoenix and The Boston Globe.